Please vote for Quattro Environmental, Inc. at www.missionmainstreetgrants.com/business/detail/17089.
Quattro has the technologies to mitigate one of the greatest threats to our society: ecological suicide via erosion, soil salinization, and soil fertility losses. What Quattro lacks is the manpower to get the word out. Winning the Mission Main Street Grant would help us "blanket the earth" with our technologies.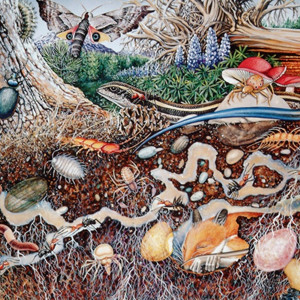 Eighteen years ago I was at an International Erosion Control Association conference when a startling consensus was announced: The low bid mandate for awarding state agency native plant seeding contracts was the most expensive route to implementing a revegetation project!
Fast forward to 2014, there have been no significant changes made to our dysfunctional government policies, and taxpayer funds continue to be squandered on revegetation efforts that have little chance of being successful. Until now.
In what Peter Thiel might call a "vertical progress" idea, Quattro announced their Certified Reclamation Team in May 2014, designed to overcome the tried-and-failed design and implementation shortcomings of State and Federal agency reclamation efforts. Now we can provide government agencies the same enhanced reclamation success as is enjoyed by private sector companies such as Shell Oil, Hyundai Motor Corporation, Rio Tinto Minerals, Central AZ Project and others. An outline of the program can be viewed at https://www.quattroenvironmental.com/2014/05/
When we are successful at accumulating 250 votes for Quattro's application for a Mission Main Street Grant, we become eligible for a $150,000 grant to more effectively tell our Quattro "Living Soil Membrane" technology story. Your vote in favor of Quattro Environmental, Inc. would be appreciated in making this a reality.
Note: You must have a Facebook account to place your vote at the URL listed above. Alternatively, you can:
Search for Quattro Environmental, Inc.
Click the VOTE NOW button next to the business name.
Thanks.