(Formerly Stronghold Fibers)
Key Benefits
Provides mechanical cross bonding of fibers to enhance the structural integrity of the Quattro Living Soil Membrane
Supports the re-establishment of a functioning soil community via Quattro Living Soil Membrane
Promotes infiltration of moisture into the soil and germination of seed
100% bio-degradable, environmentally friendly
All natural, holistic product that is non-toxic to aquatic and terrestrial life
Seamlessly integrates with other Quattro GROW Series and BIND Series products
Real-time production to project specific specifications, ensuring consistency and performance reliability
Less bulk than conventional materials – easy to apply with reduced application costs
Made in America by premier manufacturers adhering to the strictest quality and production standards, including a manufacturer's warranty for quality
Better long-term sustained performance than conventional topical, 'band-aid' seeding practices
Proven track record of sustained performance for up to 2 years
What It Does
When added to standard seeding slurry mixtures (in tandem with BIND l ATLAS SUPERDUTY), Quattro BIND l STRONGHOLD creates a highly tenacious, stable mulch mat that mechanically bonds to the soil surface. BIND l STRONGHOLD protects germinating seeds from wind and water erosion, allows the soil to breath, enhances water infiltration into the soil, and provides structural integrity to the Quattro Living Soil Membrane.
What It Is
Quattro BIND l STRONGHOLD ½ "- 1" fibers are produced from the stem of the Yucca Plant (Yucca schidigera). BIND l STRONGHOLD is certified organic and non-toxic to aquatic and terrestrial life.
Where to Use It
Quattro BIND l STRONGHOLD is used in widely diverse conditions to enhance establishment of sustainable healthy plants especially in harsh desert climates where limited moisture is a severe constraint on plant growth. In addition, BIND l STRONGHOLD promotes deep infiltration (and stabilizing performance) of BIND l ATLAS SUPERDUTY on hydrophobic soils.
Project Types
Native revegetation projects
Low-moisture environments
Desert environments
Fire restoration
Steep slope projects
Waterways, wetlands, levies and aqueducts
Highway roadside projects
Landfills
Military installations
Golf courses and sports fields
Residential development
Commercial development
Mine restoration
Solar and wind farms
Coal and gas power plants
Contaminated soil projects (saline/sodic)
Application Guidelines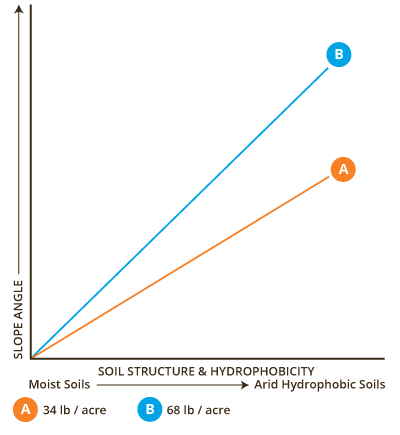 Apply Quattro BIND | STRONGHOLD at a rate of 34 lb/acre – 68 lb/acre via a hydro-seeder. Add Quattro BIND | STRONGHOLD to the hydro-seeder tank with the water and while the agitator is in operation,
BIND I STRONGHOLD should be added to the slurry mix after GROW | NUTRI BOOST, GROW | NUTRI BASE and BIND | ATLAS SUPERDUTY, but before seed is added to the tank. Make sure you vigorously shake and disperse the handfuls of fibers as you add into slurry.
Additional Documentation
Quattro BIND | STRONGHOLD MSDS | PDF
Packaging Options
17 lb bags (7.7 kg)
40 x 17 lb bags per pallet