Quattro BIND Series
Choosing the most appropriate soil binder to surpass the minimum threshold stabilization is critical to the success of your erosion control and revegetation project. Our Quattro BIND Series product line offers a complete range of technologically advanced, environmentally friendly heavy-duty soil binders and light-duty tackifiers.
Below is a product matrix to guide you to the BIND Series product that best suits your soil stabilization needs. Click on any product symbol for in-depth product information.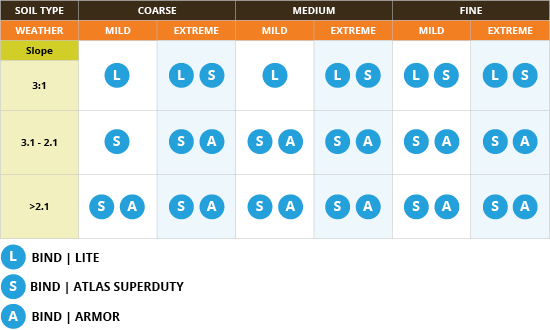 Every Quattro revegetation product focuses on re-establishing a functioning soil community with the Quattro Living Soil Membrane. Our Living Soil Membrane Technology enables our team of experts to design a custom blended solution of BIND Series and GROW Series products to effectively hold and grow a functioning soil community regardless of slope, soil and other project-specific challenges.